---
Jetting off on holiday is a top feeling. Whether you're after a classic fly and flop or you've got some adrenaline fuelled shenanigans in the pipeline, you know it's going to be epic. But before that, there's the small matter of the plane journey to reach those sunny skies and warmer climates.
So, we've put together our top 8 ways to make that long-haul plane journey fly by. Pun completely intended. Cast your eyes this way.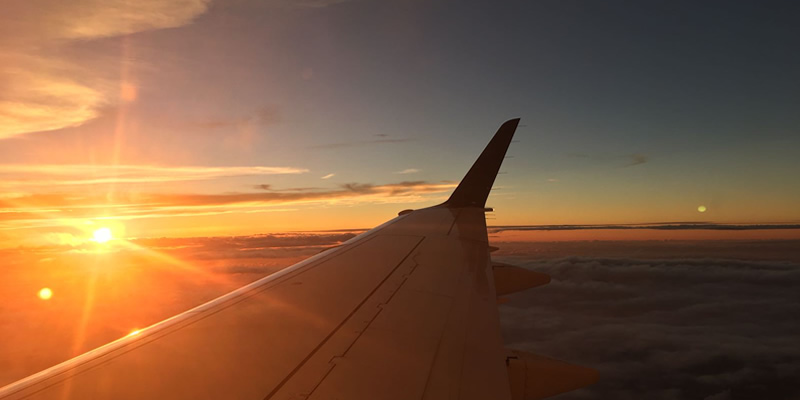 Master the skies
1. Head to the Movies 
From action right through to chic flick, on long-haul journeys there's a library of top films for you to flick through. Transport yourself to the land of lights, camera, action and be wooed by the array of films and dramas all waiting for you to watch at your disposal.
3. Be a Book Worm 
There's never a better time to kick-start your holiday reading. Cast your eyes down that first page and be transported to the world of words.
2. Get Your Game On
From solitaire to the ever faithful candy crush, get your head stuck into your favourite game. You never know, you might even reach that million pound question.
4. Plan Your Itinerary
Whether it's sunbathe, swim, refreshing drink, repeat or you've got a whole host of sights you'd love to soak up, use the time to day dream about your holiday itinerary to make sure you make the most of that well earned escape.
5. Stretch Your Legs
When the seatbelt signs are off you're free to get up and stretch your legs. Go for a little walk or stand up and have natter. Keep that blood pumping.
6. Peeping Tom
Okay, calm down. Simply, look out of the window. Take a look at the world from a bird's perspective. There's all sorts of views to soak up from way up high.
7. Catch Forty Winks
And relax. Your well-earned escape has begun. Recline your chair and shut those eyes. When you wake up, you'll be in paradise.
8. Bottoms Up
Start the holiday as you mean to go on with a cheeky tipple. Sit back with a small glass of what you fancy and natter about the discoveries that lie ahead. Roll in the glory that you're on holiday.
There you have it. You'll be sipping that refreshing cocktail by the side of the pool before you know if. Happy holiday!
Get Involved
What are your top tips for in-flight entertainment?
---