---
Posted in News by Kevin on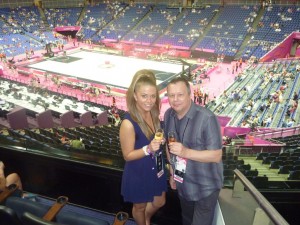 The London 2012 Olympic Games have left each and everyone of us with our unique and personal memories, whether it was Mo Farah's double-gold medal performances in the 5,000m & 10,000m, Jessica Ennis's phenomenal performance in the Heptathlon or the countless medals won by GB's Cyclists.
Myself and Steph (along with Bayley of course!) were priviliged to attend the finals day of the Olympic Basketball competition at London's North Greenwich Arena (O2), an experience which we will treasure for a long, long time.
Our hosts for the day were Harlequin Hotels & Resorts. Their Trade Relations Manager is Graham Hawkins, a very well known and highly respected figure in the Travel Industry. From the very start of the day, Graham was a fantastic host, pampering to our every need as well as subjecting us to the many jokes he has in his repertoire (I am sure there was at least one of them I had only heard twice before!)
Our Executive Suite which overlooked the basketball court afforded us the perfect vantage point and Steph was so excited to see the one and only David Beckham and his children were seated in another Executive Suite which was only a matter of a few yards away and within touching distance from ours. In spite of their efforts, Steph & the other female admirers were unable to gatecrash his Suite but we all managed to get some fantastic photographs of our new, close personal friend!
The two basketball matches we witnessed were very exciting and of the highest quality. The match which determined who won the bronze medal was contested by Argentina and Russia, with the Russians by the slightest of margins. And so to the "Gold Medal" match between the famous USA Dream Team, packed with multi-millionnaire, professional basketball players and Spain, the only team able to come close to defeating the invincibles from the USA.
The atmosphere in the arena was electric. Supporters from both countries had paid extortionate prices for tickets in order to be able to see their idols and the atmosphere generated during the playing of both national anthems was charged with emotion.
As was expected by many, the Gold Medal went to the Dream Team from the USA but everyone was impressed by the fight put up by a very skilfull Spanish team. Once again, emotions were running high during the medal ceremony. We both felt very proud of the way in which the Olympic Games were being presented by Great Britain and cannot thank Graham and our friends at Harlequin enough for inviting us to experience this fantastic event.
Want more? Find more photos on our Facebook page.
*May not be true.
---