---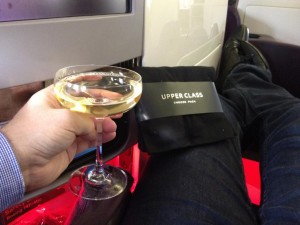 So, off to Antigua today and looking forward to the new Virgin Atlantic Upper Class entertainment system.
Upper Class, as always, makes for a very relaxing journey. A decent nights sleep at the Hilton and a stroll down the corridor at 6:30am to the terminal. Straight to the counter and 5 minutes later we are through the Premium Security passage to the Virgin Clubhouse.
A very warm welcome and we are soon enjoying coffee & OJ. Poached eggs for breakfast then off to enjoy a 15 minute complimentary neck, back and shoulder massage. Whilst relaxing with the first glass of champagne, the shoe shiner arrives to polish up my favourite travelling shoes.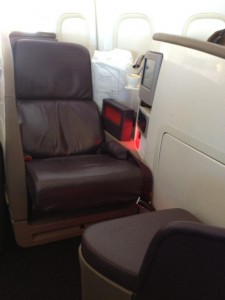 After a second glass of bubbly it's time to set off on the 15 minute walk to the gate. Immediate boarding and we make ourselves comfortable with another glass of Lanson Champagne. Just time for a few last emails and a quick Facebook update before we are off.
The guy across from me gets his PJs; although I'm a little tired from the early start I save mine for the homeward journey.
Whilst enjoying my drink I decide to order the Roasted Tomato & Basil Soup, Thai Chicken Curry, Apricot-Raspberry Almond Tart and a glass of Greek Red Wine.The menu arrives and a cool fresh towel; time for a bowl of crisps and my favourite travelling tipple, Bombay Sapphire & Tonic.
Well the Greek red is a big surprise, never tried Greek Red before… I always steer towards Spanish unless in Mexico where they have some fabulous wineries.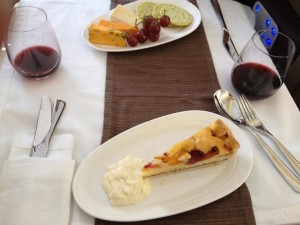 Lovely Pea and Watercress entree with Olive Bread. Now for the Soup… oh yes; a touch of pepper and this has a nice zing. Angela opted for Smoked Salmon and Capers; I manage to get a taste and that is also very flavourful. We both opted for Thai Curry and it doesn't disappoint; very authentic with that nice hint of lemongrass. Plates away and the Apricot-Raspberry Almond Tart arrives, that didn't take long to demolish! Lush; like a very fancy Cherry Bakewell Tart… I even manage to sample some of Angela's cheese board with a red wine top up.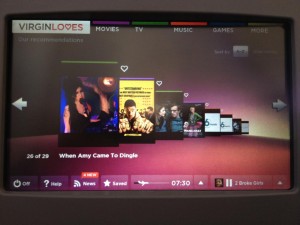 Time to settle into the entertainment system… wow, very impressed. Virgin have really improved this feature; massive choice and a very simple touch screen display. Bingo, a USB socket… fabulous; now I know I'm going to be 100% charged on my iPad and iPhone when I reach Antigua. Well done Virgin, this is brilliant. You can even display photos, play audio and watch content on the screen from the iPhone. Season 2 Game of Thrones… how many episodes can I get in before we land in Antigua? Feeling a little tired now so I set up my bed in an attempt to grab some sleep whilst Game of Thrones plays out. I manage 4 episodes whilst drifting in & out during 4 hours of downtime.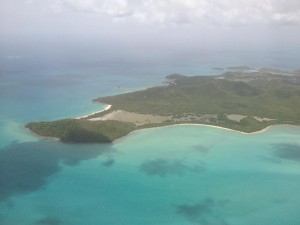 I awake and its time for a last snack… wow, the guy opposite just ordered the Mini Beef Burger with Club Sauce off the grazing menu; very tempting, but I'm going to save myself for Sandals! Just a coffee and sandwich then I get ready for arrival into Antigua.
Well we are here, another fabulous Virgin Upper Class experience flying on Virgin Atlantic's Barbarella and all in record time. 7 1/2 hours, not bad at all. Looking forward to sunshine and beaches before we enjoy the Upper Class magic on the way home. Certainly a great way to travel to the Caribbean.
---