---
International Women's Day is a day to reinforce the fact that everyone has a role to play in forging a more gender-balanced world. A day for celebrating the achievements of women and recognising the importance of gender parity. Women around the world are uniting for local celebrations, epic events, press conferences and so much more to mark this important day in so many ways. 
This years theme is #BALANCEFORBETTER and with this in mind we want to bring attention to why a balanced world is a better world. We are recognising the day by inviting the women of Blue Bay Travel to give us their thoughts, feelings and inspirations of being "Women in Travel".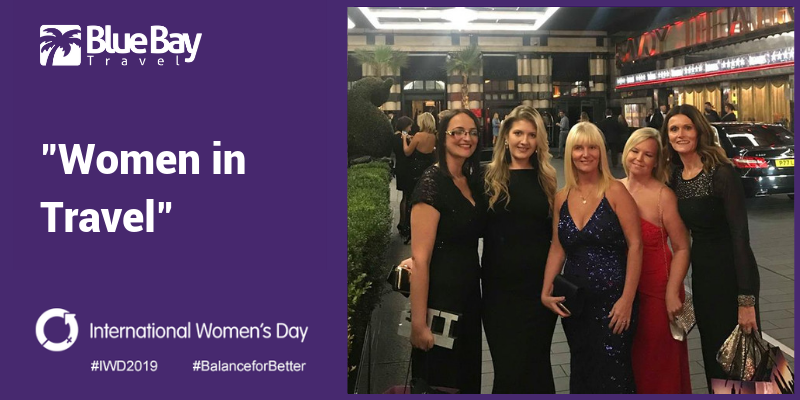 "I have worked in travel for over 30 years and I'm really proud to be part of an industry with so many women in it. Back in 1988, my first job at the Co-op had a male as the main travel boss, but even back then, the General Manager was a woman. Even at that time it was usual that women in this industry became managers, particularly in areas such as Commercial and Marketing, where their experience saw them often progress through the ranks. Having said that, when you got to the level of MD or CEO, most were men. This has changed over recent years and particularly in this industry it is now not unusual to hear of women in these senior positions. It is fantastic to see that people are now being chosen because they are the best person for the job. Women, of course, have the added complexity of balancing children with a career, in a way that men don't. If they choose to have a family they have multiple and conflicting priorities, but as we all know, we ARE the masters of multi-tasking! I love the passion of so many of the women at Blue Bay, it has been great for me to see many of those who are truly committed and invested in the business progress over recent years as we continue to grow into what will no doubt be our leaders of the future!"
 "I feel really empowered that at Blue Bay Travel we are mainly dominated by female managers who inspire me to progress, it makes me proud to be a woman. My main female role model in the office is Abby Whitehurst. She is such a hard worker, kind person and all-round BOSS. She's super approachable and ambitious and is even doing a degree at open university on the side, it's so inspiring. International Women's Day is a momentous day where we can reflect on womankind and to remember the likes of Emmeline Pankhurst, Emily Wilding Davison & Rosa Parks but also a time to recognise women in this day and age who stand for equality, like Serena Williams and Queen Beyonce. I feel extremely proud to be a woman, and all of these women inspire me to be the best person I can be."
 "I have never experienced gender boundaries at Blue Bay Travel. The foundation of the company is based on a united husband and wife team that brought different strengths to the company. So the fact I am female has never played a part of my journey here, everyone's progression is based on hard work and merit which is how it should be. I have had external experiences in the industry where I have been treated differently as a woman but never in Blue Bay, here gender simply does not matter."
 "My International Women's Day shout-out goes to Angela Wilson. Co-Founding this incredible business is an inspiration in itself. Not to mention doing so at the age of just 34! She's unphased by any aspect of business; forecasting, managing the accounts, recruitment, people management and setting customer service standards, she did it all in the beginning. Her retail management background heavily influenced our unique approach to business, making us stand out from the competition and helping deliver us to where we are today. One thing that has influenced me deeply is her unwavering belief in the power of people. The supportive, accommodating and caring culture that we have today is her legacy. Her people first approach has prevailed within the business over last 15 years. She has an incredible managerial presence, demonstrating a strong, no nonsense approach, whilst still managing to be warm, fair, personable and accommodating. I know that she's supported and impacted many of those who worked with her in the early days. I'd certainly not be the Manager I am today, and perhaps not even be in the career I am today, without her."
 "Nowhere is more empowering for women than the travel industry, and at Blue Bay, I've found this to be only too true. Without strong females driving their ideas forward as much as their male counterparts, we wouldn't have the company we know and love today. International Women's Day is all about women finding their voice and having the chance to make the changes they want to see. From every training event, team brainstorm or quirky fundraiser, it's clear to see that the Blue Bay ladies know how to make their voice heard every day!"
 "For the first time in my career, Blue Bay Travel is the only company I have felt 100% safe in the workplace. Where gender has not become an issue or a downfall. Team members both male and female empower each other to succeed and are there for each other in times of difficulty. I can only advise those who don't feel like this to push and demand equality, and if that isn't acknowledged, to find work with those who do respect yourself and your rights."
 "International Women's Day to me means recognising the strength, determination and passion that every single women has and celebrating the massive developments for women's rights throughout the centuries. Throughout my life I have been surrounded by the most amazing women, both personally and professionally, who have taught me everything I know about being a strong, confident woman and always being true to myself. At Blue Bay, it's not just one day we celebrate and recognise these things, each day I am I am inspired by all the amazing women I work with. On the day of my interview I commented on how great it was to see so many women in the office, particularly in management, and in the time that I have been here I have not been disappointed. Here the women are decision makers, creative-thinkers, risk-takers, they are determined, vivacious, and generally just FABULOUS. We are all given an outlet to explore and develop ourselves professionally and personally, it's never a question of gender. We are treated equally and on our own merit and that's one of the main reasons I love working at Blue Bay."
 "Behind every holiday dream made true, there are great women! Although we should be celebrating independent, unorthodox, and proud women everyday, it's nice to have a customary reminder of their contributions in your life lest you forget. Here's wishing all the business savvy, science wielding, number-crunching, people- person women behind your unforgettable holidays, a very HAPPY INTERNATIONAL WOMEN'S DAY!"
 "My shout-out on International Women's Day is to all of the working mum's out there. For me, working mums are pretty much superheroes! A lot of people expect women to work like they don't have children and raise children as if they don't work and this needs to change"
 "International Women's Day to me is the celebration of female empowerment across the globe. In the context of the workplace, it's the recognition of greater equality between men & women, as shown by a gradually decreasing gender pay gap & a greater increase in females securing managerial & executive positions. I believe it's a day for women to reflect on their own accomplishments in all aspects of life & praise their individual success! For society, it's a reminder to continue striving towards a greater & more balanced future for women world-wide. Blue Bay Travel is a truly great example of female empowerment in the workplace. The majority of managerial roles are filled by women, including the Managing Director. It's amazing & inspirational to see so many women having grown within the company obtain these positions of power & continue to lead the business towards greater success & continually support their fellow colleagues."
 "International Women's Day to me means embracing who we are as women and celebrating our achievements. Having role models is important too, throughout my time at Blue Bay Travel I have always looked up to Nicola, who has worked her way from an apprentice to a Sales Manager. Nicola's way of working is always positive and makes me feel very proud to work with her."
 "Being a career-driven woman in any industry is difficult, especially within our generation. You are judged on what you wear, how much you give to the company, what your intentions are within the company and where you see yourself in the future. I suppose it can be just as difficult for most men, however, it is made easier with most industries being male dominated. Being in the travel industry and being surrounded by so many amazing women who juggle countless tasks and responsibilities is amazing. It inspires you to be you, to be your best and to believe you can get there. If you want that management role, you push for it. Here at Blue Bay, there is nothing to stop you from being management, or a team leader, or an assistant because neither gender is preferred, and this is evident in our company. To see women sitting on our board of directors is such a huge step because years ago, you wouldn't hear of it and now we have two! This leads me to my main inspiration for International Women's Day and that is Lyndsey, our Head of Finance. Lyndsey is a huge inspiration in everything she does both personally and within the business. Not only does she succeed in her role here every day, but she is also one of the best and nicest people I have ever met. Here's to women everywhere!"
It is an absolute pleasure to hear the voice of the women that we work with and is so reassuring to know that we are moving to a very exciting time in history where the world now "expects" gender balance. We can all play a critical role in helping forge a more gender-balanced world as we work towards a #BalanceforBetter.
---