---
The challenge is on. We're waving goodbye to our favourite things in aid of the Dougie Mac. The Lent Challenge involves 47 whole days busting the cravings, desires, and hankerings of our much-loved foodstuffs (and drink-stuffs, come to that) in a sponsored feat to raise dollar for a worthy cause.
Between us, there's a whole host of delights that have been taken off the menu. Over in the sweet corner, there's chocolate, biscuits, sweets and cake being bid farewell, the thirsty folk have banished tea, coffee, alcohol and Pepsi Max from their lives, and personal front-runners fast food, macaroni cheese and even meat have all taken a back seat.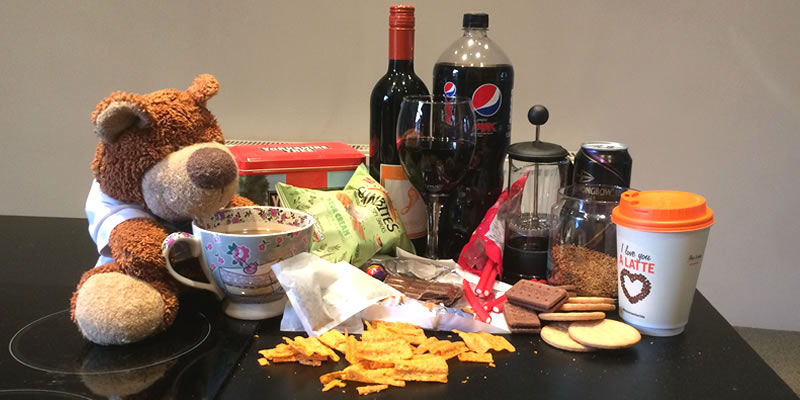 The Douglas Macmillan Hospice provides free hospice services to adults with life limiting illnesses in the North Staffordshire area. A team of specialists and volunteers work hard to provide supportive care to individuals, families, and carers wherever and whenever it's needed. The Dougie Mac is a charity close to the heart of the Blue Bay Travel team making these days of sacrifice completely worth it.
Of course, Bayley's doing a cracking job of making sure no one slips up. He's always watching.
Meet 3 of the contenders
What makes this such a big challenge for you?
Nia: I love a good McLunch
Alex: As a family we tend to have meat with every meal. I've talked my parents into do this challenge with me, so I have them moaning at me while my sister indulges in delicious amazing bacon butties.
Amy: It's basically taking away my staple diet!
Have you had any near-misses? If so, spill the beans!
Nia: There was a debate as to whether pizza is classed as fast food due to it's 40 minute delivery time. I decided to behave and didn't do it.
Alex: I haven't yet, but there is still plenty of time to go.
Amy: Nope. All good!
What have you found the hardest part so far?
Nia: Spending a weekend in Amsterdam without caving!
Alex: Eating my first ever nut roast on Sunday. You know it's bad when the broccoli is the best part of the meal.
Amy: Watching someone eat a black forest gateaux.
What are you doing to resist the cravings?
Nia: Focusing on the fact that it's for a good cause.
Alex: I have actually been exercising more to take my mind off the cravings.
Amy: Eating apple pie!
Why does the Dougie Mac make it all worth the pain for you?
Nia: The hospice is an incredible place, providing innumerable services, support, advise, and care for patients and families who are all going through something terrible. I've seen first-hand the amazing things that the hospice do and the way that they utilise the money; it's well worth it!
Alex: The fact that there are people out there who are going through much worse things that not being able to have a cheeky Nandos.
Amy: Because the Dougie Mac do an amazing job during the most difficult times.
If you'd like to join in on the action by sponsoring us, you can get involved on our JustGiving page. Stay tuned for more updates as we continue to battle the cravings.
Wish us luck!
---