---
Naomi and Kirsty have recently returned from entrancing visits aboard the Ruby Princess and Queen Mary II cruise ships. They participated in a tag-team effort to discover what these ships have to offer and what life on-board is like.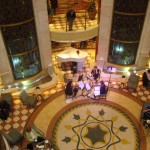 The emphasis aboard the Ruby Princess is romance and sharing memories with your loved one. A night of romance can be created wherever you look, from a Piazza singer's sweet serenade, to a relaxing couples massage from a cabana in The Sanctuary. Movies Under the Stars is also a cozy venue, where you can cuddle up under a warm blanket and watch a romantic comedy amongst the evening stars. To enhance its elegance, Ruby Princess sails to some of the world's most breathtaking destinations, including the Caribbean and the Mediterranean.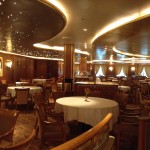 Queen Mary 2 is Cunard's flagship and one of the most magnificent ocean liners ever built. Her every detail harkens to the Golden Age of Ocean Travel, while providing one of the most modern travel experiences on earth. From bow to stern, discover 14 spacious decks on which to relax and unwind; to indulge in pleasures and pursuits you never normally have time for. Opulent public areas, extravagant dining rooms, ballrooms, theatres, lounges, a 3D Cinema – even the only Planetarium at sea – all catering to the more discerning cruiser.
Expert Advice
"There's a huge range of cruise lines to suite everyone's requirements, whether it is for families, couples or groups – there is a cruise out there for everyone! All cruises are full board and offer impeccable service, whilst a few cruise lines also offer an All Inclusive drinks package if you want to pre-budget before departing. Don't forget to check out the shore excursions, spa treatments and even speciality restaurants that are run by celebrity chefs! There is always a superb selection of dining options for all tastes (even for the fussy ones like us) ranging from buffet style to a la Carte.
There's never a dull moment on-board a ship with all the fantastic facilities they offer. Most ships now offer a spa, gym, multiple swimming pools and for those who like to chill out and read there's a library and games rooms. Most ships have a theatre offering two shows an evening ranging from West End Shows to Comedian's. For the children there are kids clubs, teen zones, and some cruise ships even offer water parks!"
"Most cruise ships now offer a bewildering variety of staterooms, but you can usually narrow them down to the following four broad categories: Inside, Ocean View, Balcony and Suites. It all depends what budget you have and how long you will spend in the stateroom, as this will help decide what would be best for you. At the time of booking, depending on the offer, you can also choose your stateroom number so you know exactly where you are located on the cruise ship.
If you think you would not be able to afford a cruise or you may feel claustrophobic whilst on-board, then all those worries can be forgotten with the huge selection of options available to suit any need and budget. I would recommend a mini cruise for first timer cruisers to sample the ship and the luxury that comes with it. A cruise and stay would be perfect for established cruisers to gain a true experience of the chosen destination."
---
---
Cruising offers a plethora of holiday experiences, neatly wrapped up in a single package. When asked to condense all of their advice to a single sentence, both Naomi and Kirsty offered the same response: "Consider a cruise and you will make memories you will not forget."
Insider Knowledge Issue 7
by Ben Farbrother
---