---
You know we like a good adventure, and we're always on the look-out for new and innovative ways to help you discover more of the world. To this end we recently teamed up with Carnival Cruise Lines to create a number of new and exclusive fly, cruise & stay packages to help you see more of Planet Earth in the most stylish way possible. In order to vouch for their much-spoken gloriousness we decided to send out the InFocus video crew to do some recon. This is the story from the cruise stretch of their adventure, as seen though the eyes of Martyn. Enjoy!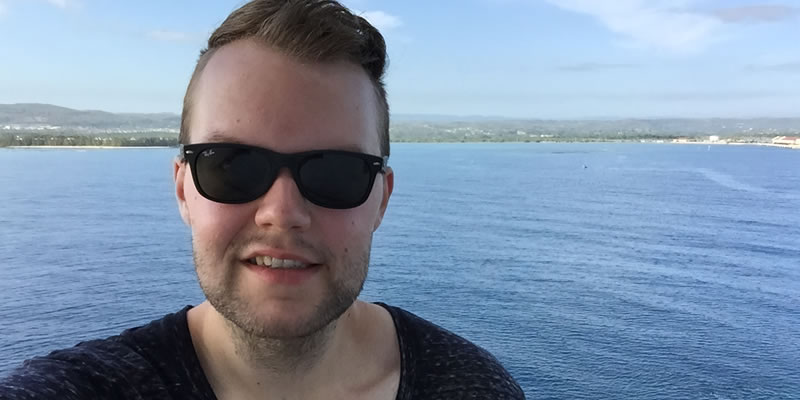 Orientation at Sea
Swashbuckling on a Carnival Cruise comes with a little acclimatisation, easing you onto your sea legs with a single day at sea. This was perfect for me, being my first time taking to the high seas on a cruise ship, and I'd say it's ideal for anyone new to cruising.
There's loads to do on-ship, with restaurants, bars, theatres, kids clubs, an adults only chill out area called Serenity, and a spa all on tap. If you're after something a little more energetic, try your hand at basketball, dodgeball, mini golf, snooker, table football, table tennis and more, all conveniently located in the Sports Square. The whole area has a sky walk surrounding it with signposts logging distance milestones for walks and runs, should you wish to keep tabs on your cardio credentials.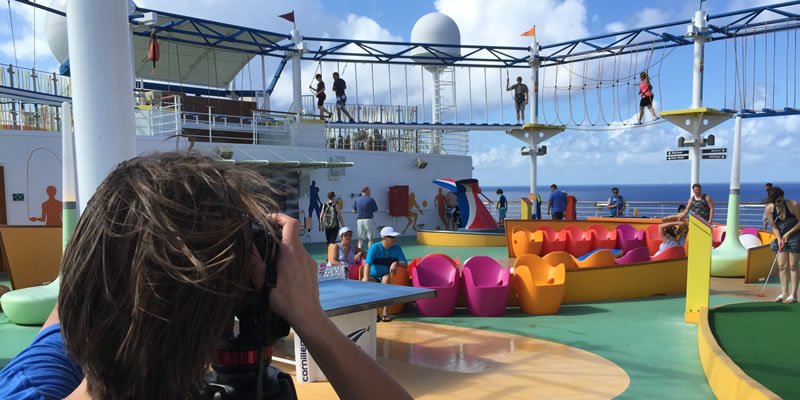 The food court was open at breakfast, lunch and dinner for ad hoc munching. The food arsenal changed daily, encompassing salads, burritos, pizzas, hotdogs and infinitely more deliciousness. Carnival Cruise Lines' most famous eatery is Guy's Burger Joint, a joint project with Guy Fieri of "Diners, Drive-Ins and Dives" fame. No one can watch Guy's shows without salivating uncontrollably, and now we had a chance to try classic American burgers inspired by the man himself. They didn't disappoint, those juicy morsels of meaty goodness. Nomtastic.
We rounded off our day at sea with a Dive in Movie at 10:00pm, another unique experience you can only pocket with Carnival Cruise Lines. You can catch a film on a big screen from the pool or a sun lounger, and you can get your chops around truckloads of free popcorn, which is a nice touch. We were treated to "The Fault in Our Stars", and Carnival Cruises Lines have a bunch of other modern films in their repertoire. It's the best way to end the day.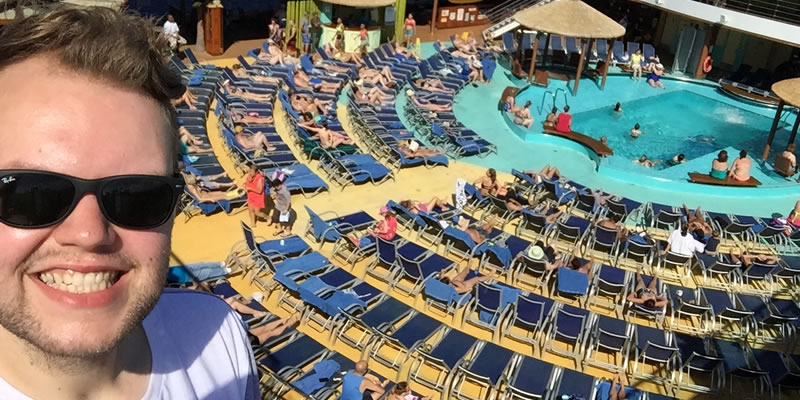 First stop, Jamaica.
We loved the ship, but we were super excited to dock in Jamaica and trek out to Dunn's River Falls. We met our guide Jermaine who delivered us to Dunn's River Falls via the scenic route. He sang to us, told us about Jamaican history, and generally entertained us like a true gent.
We were overwhelmed with the natural beauty of the place and we couldn't wait to get stuck in. The classic thing to do at Dunn's River Falls is to climb the stair-like stones beneath the cascade of water, and that's exactly what we did. There are two routes: one halfway up (the "whirlpool" entrance) and one at the mouth on the beachfront for a full-on Bear Grylls ascension experience.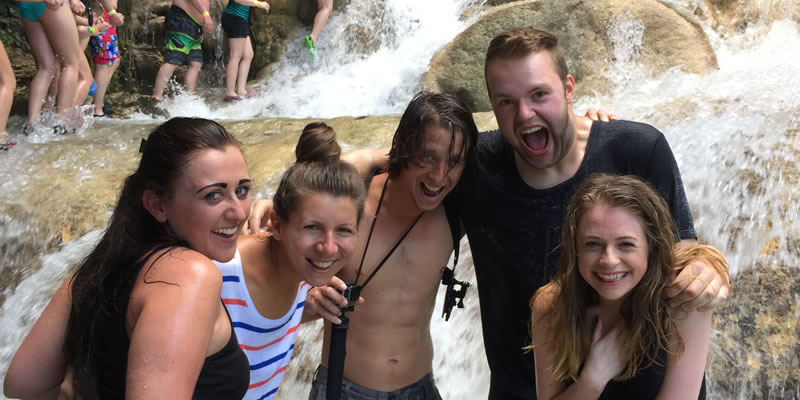 Our climb guide, Tamisha, insisted we sampled the whole experience, promising us the thrill of our lives. She pushed us to keep our spirits high, and the adrenaline was unmatched. What's great about the falls climb is that your guide will tailor the route based on how comfortable you are,  and ultimately make sure you safely enjoy the best experience possible. Tamisha even managed to catch a wild shrimp with her bare hands half way up! She was a machine! She's also proud to be the only female guide, and we can't imagine climbing with anyone else.
Reaching the top bestowed an exhilarating flood of achievement. The elation of the whole journey was completely overwhelming, and we buzzed from our little expedition. Dunn's River Falls is an absolute must if you're in Jamaica.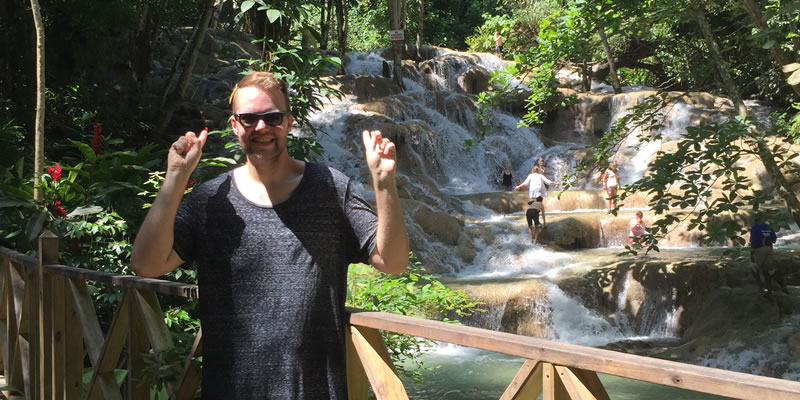 Second stop, Grand Cayman
Our next stop (and final port of call before disembarking in Cozumel) was Grand Cayman, and we'd heard that sociable stingrays were on the agenda.
We had a private tour with Epic Tours, and our guides Pete and Charlotte were incredible. We were headed to Stingray City where you can swim with wild stingrays, so we hit the ocean on their lush catamaran. The seascapes around Grand Cayman take your holiday to a whole other level. They're like something taken from a PC wallpaper; something so flawlessly beautiful your eyes almost reject the reality of the situation. I'd never seen water so perfectly clear! The stingray residents of Stingray City are surprisingly tame, having learned to cohabitate with the fisherman in the area. They'll happily swim right up to you, and even let you hold them in the water. This doesn't hurt or distress the stingrays in any way, and they seemed to get a kick out of socialising with us landlubbers. They have the strangest textured skin (mushroom-like underneath and sandpaper-esque on-top) and lacking teeth they've been known to hand out the occasional "lovebite" to unsuspecting adventures. How cheeky!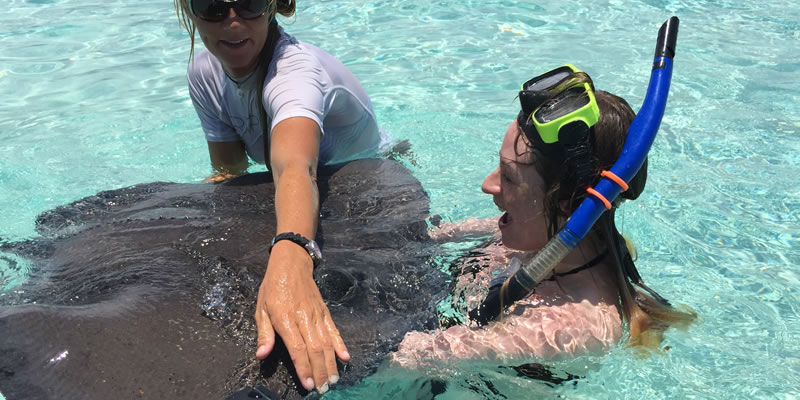 Back on the ship we found ourselves with an hour to kill, so we went straight to the Skycourse where we harnessed-up and hit the ropes to walk where no holidaymaker had walked before (sort of). The skycourse is essentially a walkway high up on the ship where you can get an eyefull of the local vistas. Tina (our InFocus presenter) is scared of heights, but the wee trooper made it across with the help of Drew, our valiant instructor. She walked through her fear and felt such a sense of achievement at the end. To celebrate we headed to the Waterworks water park, where we climbed to the highest point of the ship and raced down the helter skelter slide. It was the best life, and the best end to the island-hopping leg of this epic cruise & stay adventure.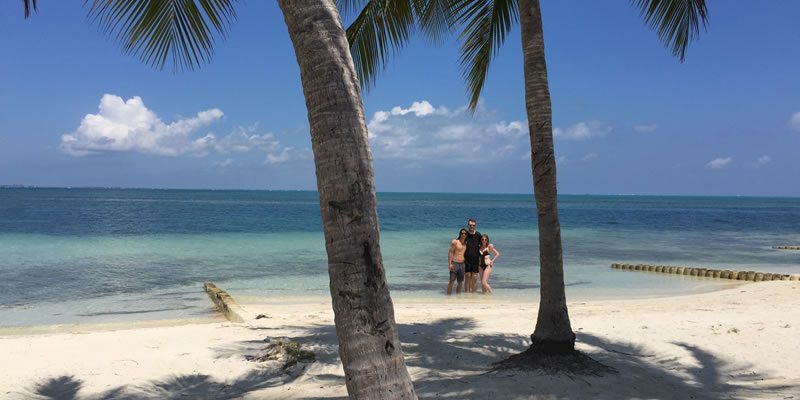 So, that's the cruising done. Next step is a jolly good stay in Cozumel, but that's another blog for another day. In the meantime, let us know in the comments below if you've got involved with a Carnival Cruise before. Otherwise, you can have a little tap of the orange button to get more intel. See you soon!



Enjoy our exclusive triple centre Miami-Mexico cruise & stay from only £1,249pp
---