---
Thomas Cook know the way forward. They've diligently delivered holidaymakers to sunnier skies for many moons, and likewise ensured their timely return. We've ushered countless Blue Bay Holidaymakers to their dream destinations via the wings of Thomas Cook, to Mexico, the Caribbean and everywhere in between.
And that's why we're pretty excited to show you their latest initiative in the quest for aviation excellence. The breadth of Thomas Cook's service is astonishing, and their new enhancements make it positively enviable.
As of 1st May 2015 Thomas Cook are rolling out brand new premium cabins for Manchester departures. Luxurious aviation will be more affordable than ever before, complete with a zeppelin-load of special perks.
To be honest, the word "new" is an understatement. These premium seats are a revolution; a complete metamorphosis of the Thomas Cook experience. It's the name we know, but rebuilt with unprecedented finesse. It's an elegant reinvention, so let's take a tour of their new found glory.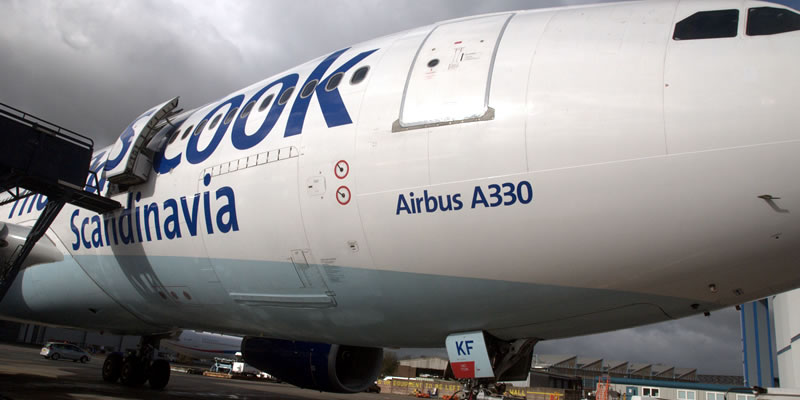 Start the holiday sooner
If you're departing from Manchester your holiday will start that little bit sooner thanks to the special treatment you'll receive before you even board the plane:
•   Sun Down Check-in & Bag Drop (open from 4pm-10pm)
•   Separate Premium Check-in (not including Holguin in Cuba)
•   Fast track security pass
•   Separate premium boarding
•   Premium baggage loading, so it's off the plane first
The premium upgrade is worth its weight in gold. You're not just getting a swish seat, you're getting a VIP holiday experience right from the word go.
Top Tip: Combine that fast track pass with an airport longue. You'll zip through all the checks and have a totally chilled-out wait for the boarding call.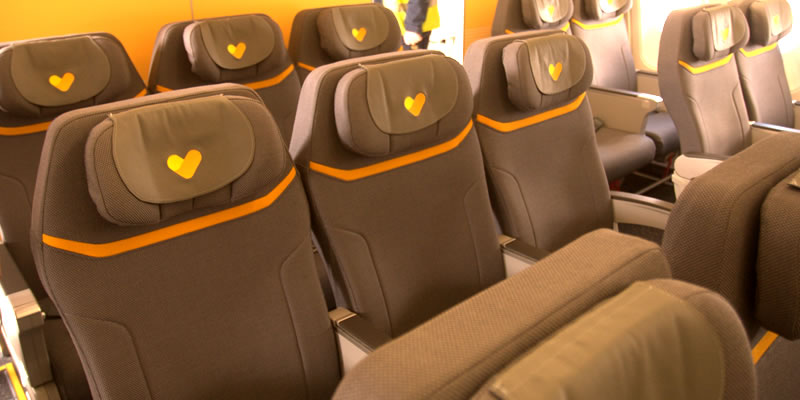 Treat the undercarriage
With a seat width of 19.7 inches and a 35 inch seat pitch, getting comfortable is easy. Better yet, the extra space comes with super savvy privileges:
•   Choose your seats online prior to departure
•   30kg checked-in baggage allowance (non USA routes)
•   Two pieces of 23kg checked-in baggage allowance (USA routes)
•   10kg hand baggage allowance
More more more: Yes, you get more space, but that's only a small part of story. You can take more, be more prepared, and ultimately get more for your money than ever before. Happy days.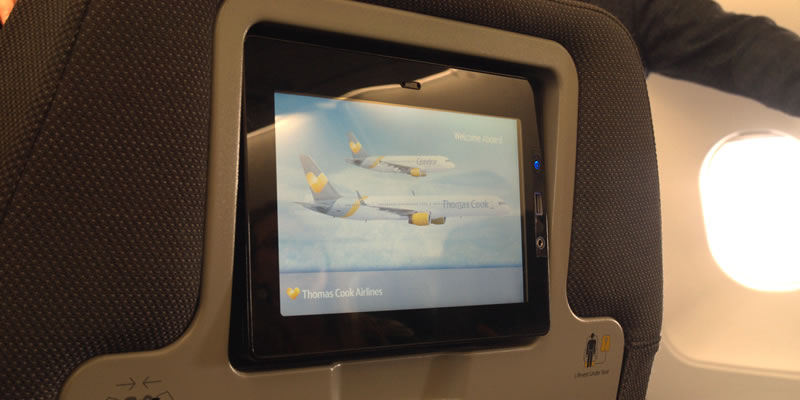 Give it wings
Premium seats with Thomas Cook don't stop at the leg room. You'll be showered with a swathe of next-level perks that'll keep you smiling all flight long:
•   Complimentary welcome drink and snack prior to take-off
•   3 course James Martin premium meal service
•   Lighter meal prior to landing
•   Complimentary drinks (not including Champagne)
•   Premium pillow and blanket
•   Head-set for the in-flight entertainment system
•   Complimentary activity for kids under 7
•   Newspaper and magazines
•   Exclusive content on the in-flight entertainment system
The premium cabin is a way of life. It's uncommonly wonderful in every way, ideal for the discerning traveller.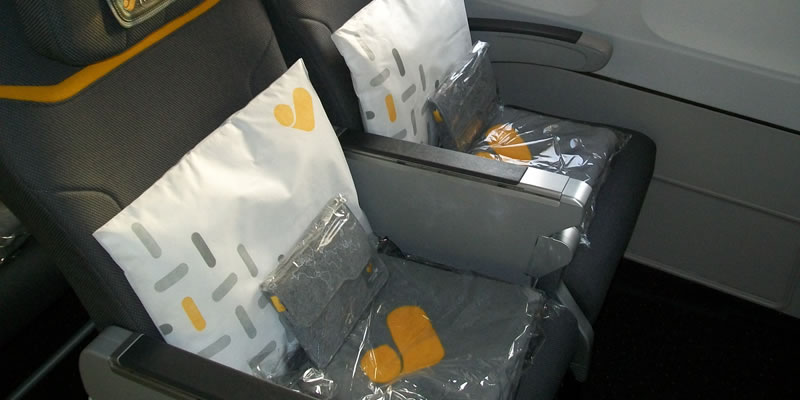 Amenity Kit
The Thomas Cook premium cabin is the most stylish premium flight experience. Your chic amenity kit will deck you out with all the must-have in-flight commodities for the modern traveller:
•   Eye mask
•   Snuggly flight socks
•   Toothbrush and toothpaste
•   Head set and ear plugs on the outbound journey
Fun Fact: The swish felt folder that contains all your goodies doubles up as a case for your tablet or eReader. It's an apt token of the intelligent design that underpins the new Thomas Cook Premium services. It also makes for a lush bear hammock:
Newer than new
If you've flown with Thomas Cook before you might think you've got a good idea of what to expect.
But you're way off the mark.
A lot of planning, effort, research, and love has been poured into the new premium cabins, and the Thomas Cook fleet is better than ever. That heart isn't just for show, you know.
The Premium Cabin upgrade is an elegant solution for seamlessly fantastic holidays. From the moment you arrive at the airport it's all about you and everything you need to be truly comfortable.
It'll knock your socks off, so it's a jolly good job there's a pair in the amenity kit.
Don't just take our word for it, either. See for yourself:
---