---
Have you been tempted to take a cruise for your next holiday but then been put off by the idea of an entire day at sea in the middle of the itinerary? It's time to put your mind at ease and highlight the plethora of sea day activities available on-board Carnival cruise ships – you won't have time to be bored! Heck, the daily newsletters are now as long as a Harry Potter novel! The range of deck side activities might include ice carving, horse races, belly flop contests and live music. There is also a library and art auctions, bingo and trivia games or several lounges and music in various venues. Maybe a cooking demonstration, motion picture or a theatre production is more your thing?
Here is the low-down on our top picks for things to do on days at sea.
Chill by the pool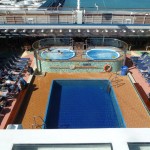 What's the quintessential activity on-board a cruise ship in the Caribbean? Sunbathing, of course! "Fun Days at Sea" can include endless hours of soaking up the sun by the pool, lounging in the hot tub and watching the world go by.
Eat, drink and be merry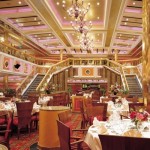 Eating and drinking make up a large portion of the on-board experience. Perhaps you're fond of the smorgasbord approach, picking this and that from the Mongolian Wok, Tandoor Indian food, NY-style deli, or the pizza, pasta, and burrito bars. Those predisposed to a liquid diet can kick back with buckets of beer and fruity cocktails from poolside bars, glasses of wine with lunch or even milkshakes and fruit smoothies if the urge takes you. Every "Fun Ship" has a 24-hour pizzeria or you can choose to dine in the dining room or at one of the many buffets on the upper deck.
Hit the gym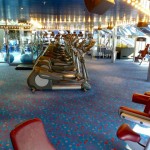 If you are feeling guilty, you can work it off at the gym on a high deck, overlooking the stunning sea. When the closest you come to getting exercise during the work week is speed-walking from your desk to the printer, time to work out in a state-of-the-art gym can be one of the many perks of cruising.
Bliss out in the spa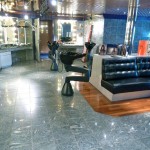 On the other hand, maybe indulging in a little pampering during your time off is more your aim. The huge array of treatments include massages, facials and mani-pedis, Botox injections and teeth-whitening treatments, fancy shaves for men, special teen treatments, couple's mud baths, and a variety of gooey wraps that claim to do wonders for your general well-being. If all that wasn't enough, Carnival offer thalassotherapy pools for therapeutic dips to truly unwind from the stress of work life at home.
Experience unadulterated fun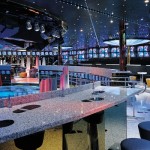 It's perfectly acceptable to drop your work-week formality and get a little silly on a cruise. Some might say that you're missing out on the true cruise experience if you don't join in with the on-board fun and games. Carnival has perfected the art of pool games with events like the Hairy Chest Competition, Rubber Chicken Olympics and Battle of the Sexes. It's okay to show off your rusty dance moves – you are unlikely to see any of your shipmates again.
Be entertained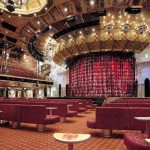 The "Newlywed Game", trivia games, relay races, karaoke, and so much more! Carnival like to keep their theatres full during the afternoons of Fun Days at Sea. By nightfall, you can dance the night away at the many clubs, join a conga line at the deck party, catch a Vegas-style show, or laugh until you cry at the comedy shows. There is so much fun to be had that the on-board photographers will never catch you without a smile on your face!
Be cool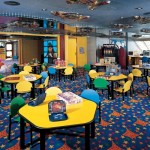 If you're a kid, that is. Knowing that the under-18′s don't want to play bingo with mom and dad all day, cruise lines have built elaborate kids' recreation areas that will have adults wishing they could turn back time and join in the fun. Think mocktail bars for sodas and smoothies, Internet and video game consoles, piles of board games and toys, and some hands-on crafts projects and don't forget the ship-wide scavenger hunts, pizza parties and karaoke contests. Trained counsellors take care of the little tykes and keep an eye on teens, so kids and adults can pursue their favourite activities in harmony.

So what are you waiting for? Once you come aboard a Carnival cruise you'll have everything you need for your kind of fun!

Insider Knowledge Issue 6
by Ben Farbrother
---