---
As part of the Blue Bay Concierge team, Gemma and I were invited to the launch of the new v-room at Manchester airport on 28th June 2011.
Following the fantastic success of the v-room at London Gatwick, Virgin decided to offer passengers travelling from Manchester the opportunity to experience the same Rockstar Service by opening a v-room at Terminal 2. Since opening in 2008, Virgin Holidays' London Gatwick v-room has achieved customer satisfaction scores of almost 90%.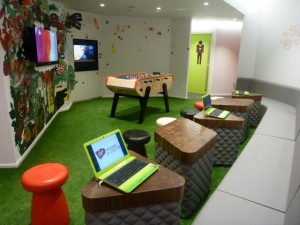 The v-room is exclusively for Virgin Holidays customers, allowing travellers the chance to escape the hustle and bustle of crowds, be treated like an 'A-lister' and enjoy the special extras like the amazing surroundings, facilities, free food and soft drinks.
We were greeted at the reception area where you can enter the lounge via two ways; to the left is the adults-only area and to the right is the family area. The lounge is decorated very tastefully in the colours of Virgin with a funky modern twist. There is an amazing picture along the wall; as you walk towards the family area it appears as a picture of the Salford Bridge, then as you walk the other way towards paradise the picture changes to a beautiful beach setting. It has been very well thought out down to the smallest detail, like the light shades over the help desk… they are made out of sunglasses!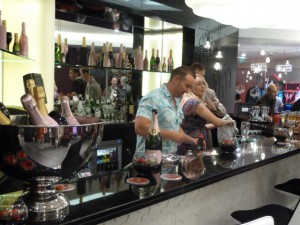 We sampled the food service area where you can enjoy an array of spectacular foods as well as hot and cold beverages. The drinks menu in the lounge is chargeable, but it is at a competitive price.
The lounge can accommodate 100 guests and includes different areas for adults, teens and younger travellers. There are state-of-the-art entertainment systems including a wall-sized interactive gaming screen with an Xbox 360 Kinect. Flat screen televisions feature throughout the lounge. The teens area has table football, a PlayStation and laptops. The younger children's section features a soft secure area with a television showing children's TV programmes, a magnetic wall and toys for them to enjoy. Not forgetting the adults; they are able to enjoy their own dedicated area with a stylish bar.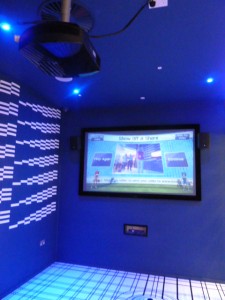 I have never personally been in a lounge before and I was pleasantly surprised by how fantastic they are in terms of facilities and what you actually get for your money. The v-room was so spacious even though there was over one hundred people in there for the launch. People are often under the impression that if they are travelling economy class that they can't have access to the lounges, but they most certainly can! Next time I go on holiday with Virgin I will definitely be booking my family in to the v-room.
The v-room is available for use up to 3 hours prior to your scheduled flight departure and is exclusively available to Virgin Holidays customers only.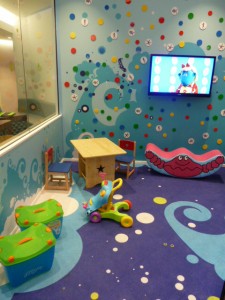 You can book a v-room for only £20 per adult and £12 per child (aged 2–11) and infants go FREE.*
If you are interested in booking a v-room to add a little something special to your dream holiday, please contact our Blue Bay Concierge department on 08444 999 349 or email [email protected]
You can learn more about our concierge department here.
Terms and conditions
Opening times are 06.15-13.00 daily. v-rooms are subject to availability. *When booked in advance.
---