---
In conjunction with the Caribbean Tourism Organisation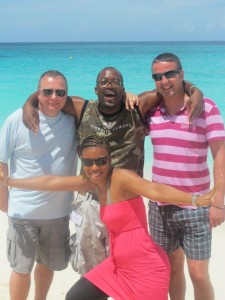 Following our trip to St Kitts & Nevis, we boarded our Private Charter flight to Anguilla.
The flight was approximately 40 minutes and the flight path took us over some breathtaking scenery including the islands of St Barts & St Martin.
Anguilla is the most northern island of the Leeward Islands, less than 9 miles from St. Maarten and 150 miles east of Puerto Rico, two of it's major gateways. It is flat, low-lying and is envied for pure, pristine white sands, wrapped in brilliant turquoise-coloured waters.
Accompanied by our host from the Anguilla Tourist Board over here in the UK, Mekesha Mussington, we were warmly greeted at the airport by members of the local Tourist Board before being transported the short distance to our hotel, Paradise Cove.
My stay at Paradise Cove could not have gotten off to a better start. I was shown to my suite by a hotel employee who, in true tradition, asked where I was from in the UK. I indicated I came from a place near to Manchester. Again, in true tradition, the link was made to Manchester United who happened to be his team. By coincidence, Manchester United were playing Stoke City, my team, and the game was actually in progress at that time. The kind gentleman switched on my 50-inch plasma tv, just in time to see my team score against the mighty Manchester United. I declined his offer to be shown around my plush suite, choosing instead to watch the rest of the game which was taking place in a cold Stoke on Trent. I knew straight away I was going to love this place!
The resort is stunning. Each suite is positioned around the outside of the sizeable pool which itself is set in magnificently manicured gardens. The suites themselves all feature spacious  and well-appointed living areas and kitchens with every amenity possible. Standard features include all of the amenities you would expect from a luxury property, which Paradise Cove is.
The hospitality shown to us all was exceptional and nothing was too much trouble for the friendly staff who actively contribute towards creating a lovely family-like atmosphere.
Well, the football having finished and having unpacked, it was off to the beach and wow, what a beach!
This is the beach known as The Cove. It is no more than a five minutes walk from Paradise Cove and is the home to Smokey's Beach Bar at the Cove. Not only world-renowned for it's location and fantastic food, Smokey's has a reputation for the fantastic Saturday afternoon atmosphere provided by top quality live entertainment…  and guess what, it was Saturday afternoon.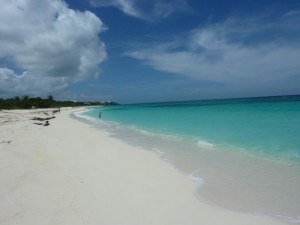 This was awesome. The beach is one of the best beaches I have ever seen, the food is delicious and the ambience is very special. Photographs pinned-up in the bar of America's most famous "A-list" celebrities highlight just what a fabulous place this is. Here, celebrities mix with the locals in a totally relaxed environment, void of paparazzi.
We embarked on a tour of the island on our first full day, but not until we had experienced something very special and something none of us will ever forget. Our host, Mekesha had said we would be leaving for our tour a little later than scheduled as she would be visiting her local church, it being Sunday. We all accepted her kind invite to join her. We were warmly welcomed into their congregation and the whole experience was a very emotional one.
As an island which is famous for it's magnificent sandy beaches and turquoise waters as well as having a reputation for it's fine restaurants, Anguilla's history can often be overlooked.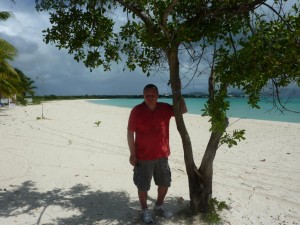 However, steps have been taken to ensure this is not the case, culminating in Anguilla's easy to navigate Heritage Trail. Time constraints meant we were only able to visit a few of the 10 designated stops on the trail, but this certainly gave us all an appetiser of what the Heritage Trail has to offer.
Our tour of Anguilla also took us to some of the most amazing hotels and resorts I have ever seen in the Caribbean. Places like Cap Juluca, Viceroy Anguilla, Ultimacy Anguilla (a luxury 8-bedroom villa) and the CuisinArt Resort which features Anguilla's first and only Championship Golf Course.
At each of these resorts we were subtly fed with the names of the many celebrities who had stayed there in recent times.
But Anguilla is not just for the mega-rich and famous. We were shown around other hotels whose rates certainly fit the budgets of us mere mortals, properties such as The Anguilla Great House. As will nearly all of Anguilla's resorts which are situated directly on sunning beaches and offer good quality accommodation without breaking the bank.
Anguilla is an island whose people are dedicated to great eating. From a local neighbourhood barbeque to haute cuisine, Anguilla's restaurants offer something for every palate imaginable.
There are over 100 restaurants on the island. We were privileged to dine in 3 of the finest.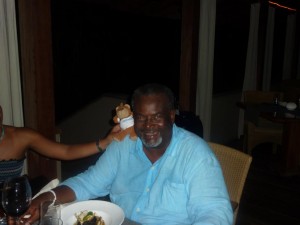 On the first evening of our 3 night stay in Anguilla, we dined at the Dolce Vita restaurant. The proud owner of the restaurant greeted us and promised to deliver the true flavour of Italian/New York cuisine. Well, his chef, who had been brought in from New York, did him proud. The lasagne, as promised, was amazing and the whole dining experience was a memorable one.
On the second evening, we were hosted by the world-famous Cap Juluca Resort. In a word – WOW! The setting was spectacular, the Caribbean sea lapping against the wall of the restaurant, the view overlooking the sea towards nearby St Maarten, stunning. Oh, and the food was pretty special as well.
Our final evening in Anguilla took us to Veya Restaurant & Café. Here, we dined with members of the Anguilla Tourist Board and the Minister for Tourism himself. This is fine dining at it's finest, in the finest of settings… and it served to provide us all with a wonderful end to our Anguilla experience.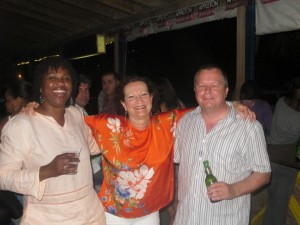 Anguilla is one of the most paradise-like places I have ever visited. Whether it be for a "one-stop" holiday or as part of a twin-centre option with other Caribbean destinations such as Antigua, Barbados, St Lucia etc., you have to visit Anguilla to experience it's delights. Air-links from these islands to and from Anguilla operate on a regular and efficient basis and the flying time is no more than 30-40 minutes maximum.
We were indebted to our hosts in Anguilla, to Mekesha Mussington from the Anguilla Tourist Board here in the UK (man, that girl got rhythm!) and to Lorraine Grant and her colleagues at the Caribbean Tourism Organisation for affording us this opportunity to experience the delights of Anguilla.
---