---
Carnival Cruises are crowned Fun Ships and there's no two guesses as to why. This is a cruise experience like no other. Ditch your daily worries at home, head to the resort on water and relax, laugh and holiday like you've never done before. There's so much to see and do on a Carnival Cruise, and that's before you've even thought about the plethora of destinations lined up to explore on the way. Team Blue Bay hit the Mediterranean for an exclusive experience on-board the brand new Carnival Vista. Here are some of the highlights of what not to miss when on-board Carnival Vista. Staying entertained by day, easy job done.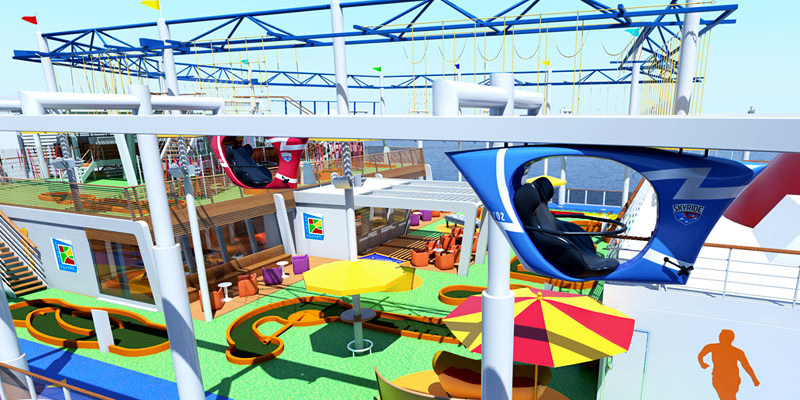 Staying Entertained By Day
1. Sky Ride
Two words: do it. Picture this; you're 150ft above sea level, sat in an open sided bubble, peddling your way around the edge of the cruise ship, feasting your eye-parts on the unobstructed spectacular views of the ocean and land beyond. Exhilarating. Top tip: you must wear closed shoes so pack your pumps.
2. Waterpark
Yep. There's a waterpark on-board. Just as it sounds, head here for water-based antics, including the Twister and Kaleid-o-Slide. Great for the young and young at heart. Make sure your tick them it off your to-do list.
3. Aim high
You thought the sky ride was adrenaline pumping? Try taking on the high ropes course around the edge of ship. Challenge accepted.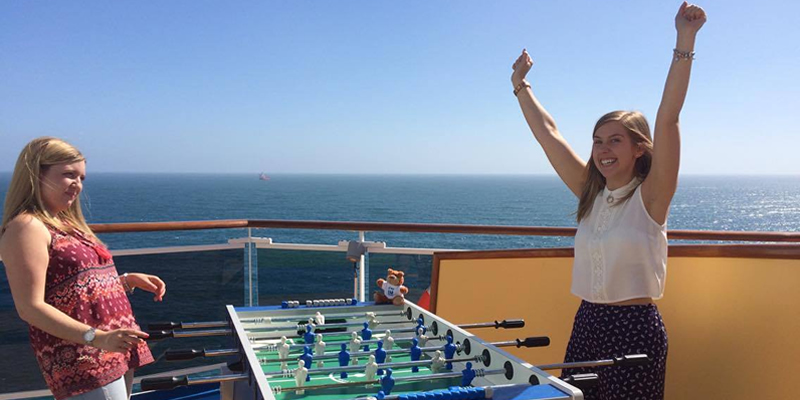 4. Get Your Game on
Feeling a little competitive? There's a host of activities on aboard in the SportsSquare for you to get stuck into, from crazy golf, table football, table tennis, bowling, you name it. The loser has to fetch the next drink. Let's not forget to mention, it was 3-2 overall in the table football, Vic and I were clear champions.
5. Kids Club
Let the Junior Holidaymakers be entertained at Camp Ocean ready with fun activities for ages 2-11. Dr Seuss Bookville is also ready and waiting with a book corner with a twist.
6. IMAX Cinema
Get your film on and head to the movies with Carnival Vista's very own IMAX Cinema. Yep, there's a cinema on-board. An epic one at that.
7. And Relax
If you're looking for a little adults-only relaxation, head on over to Serenity. With hot tubs, cabanas and its own bar and Fresh Creations salad station, your next refreshment is just steps away. Top tip: try out one of the swaying hammocks.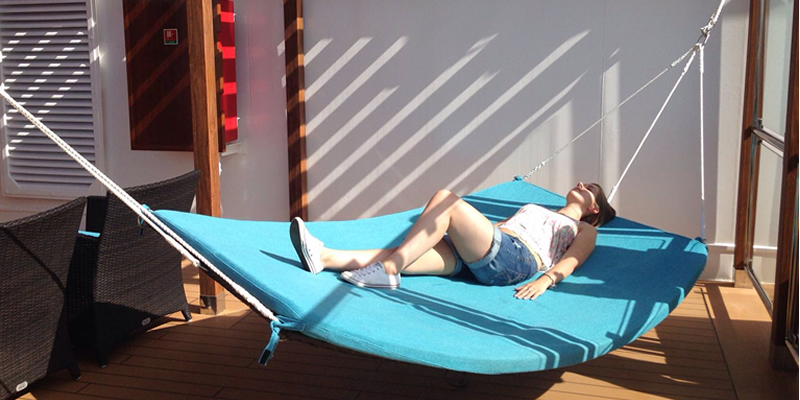 8. SKYBOX Sports Bar
Sports fanatics don't worry about missing out on the latest game. With live streaming you're kept up-to-date with all the lasted sport intel. We were on-board for the Euros match, the atmosphere was incredible!
9. Poolside Entertainment
Let the entertainment team do their thing with poolside entertainment. With bootyshaking competitions, conga lines, and a laugh a minute, the magic of the cruise staff will have your jaws aching from smiling. Big shout out to Carnival Vista Cruise Director Matt Mitcham. What a legend.
10. Sweet Tooth
Satisfy your sweet tooth at the Cherry on Top sweet store. It's like stepping into heaven. I strongly recommend trying out the ice-cream counter. Cookie dough ice-cream with marshmallows and drizzled with hot fudge sauce. Perfection in a tub.
Get Your Cruise On
If you fancy trying something a little different and getting your cruise on with Carnival Cruises, have a little push of this fancy orange button, or leave your questions in the comments below.

---