Cocogiri Island Resort Review: Everything You Need To Know About This Oasis
It certainly sounds idyllic on the face of it, but what's it really like on a 5-star Maldives escape? We've conducted a Cocogiri Island Resort review to give you more info before you go.
Picture this: you're stretched out on a comfy sun lounger, a brand new page-turner in hand, and your butler "Hinchcliffe" is whipping another one of his signature cocktails. Meanwhile, the white sand of your private island beach is gently being lapped by the cerulean waters of your very own lagoon.
Click… click! Hey, wake up! Sorry to break the mood. But, unless you've got the lucky numbers for this week's Lotto or stumble across some long-lost pirate bullion, it ain't gonna happen.
Although, all is not lost, because we can show you how to get as close to that vision as humanly possible with our Cocogiri Island Resort review.
Read on to find out what paradise looks like and how you can get there for even less! First though, what is this mythical place?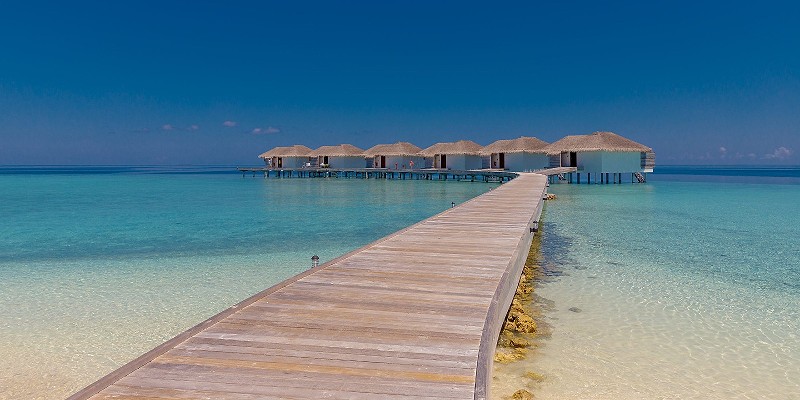 ---

---
What is Cocogiri Island Resort?
Set out in the stunning Vaavu Atoll, this five-star resort is the perfect paradise island escape. We know you've probably heard that a lot when it comes to Maldivian resorts.
However, we think our Cocogiri Island Resort review will show that this place is built different.
Accessible by either seaplane or speedboat transfer, there's a focus on the beauty of the archipelago's natural environment here. The resort boasts stunning eating spaces, a spa, a diving school, and a swimming pool. There's also a pool area and club for the little ones if they fancy grabbing a slice of paradise too.
Elsewhere, the resort also offers an exciting array of excursions that continue to showcase Atoll's beauty. Those memorable trips include shark and manta ray snorkelling, dolphin watching, island-hopping, and sunset cruises.
But, before we break down the resort in more detail, how about we tell you more about its location?  
---
What is the Vaavu Atoll?
The Vaavu Atoll is the least populated atoll in the Maldives.
Located on the eastern point of the Maldives, just five of the 19 islands that make up Vaavu are inhabited. In fact, the population of the atoll is just 1,500. So if you're trying to decide between Mauritius vs. The Maldives and want seclusion guaranteed, that's something to ponder. 
In addition, the region is home to the largest continuous coral reef in the Maldives. Fotteyo Falhu is a 55-kilometre-long stretch of coral bustling with beautiful marine life.
The Vaavu Atoll is also one of the closer islands to the capital, Malé. In fact, a seaplane transfer to Cocogiri Island Resort takes just 18 minutes. Whereas the speedboat journey takes an hour. Although, I'm sure there's worse way to spend an hour than staring out over a cyan lagoon. 
After your transfer, you'll be ready to hit the resort and make a decision about your room.
---
Beach or Water Villa?
OK, you've probably made this decision long before touching down on the Cocogiri welcome jetty. But we had to build the suspense.
So. Do you want a beach or a water villa? There are 20 of each room available, as well as a selection of super-chic Jacuzzi water villas, if you're feeling particularly decadent.
I'd recommend punching up your experience with a stay in a stunning water villa.
In the staggeringly beautiful water villa, you have all the high-end amenities you could wish for, including a luxurious soaking tub offering showstopping views out over the lagoon. Plus, when you step out onto the private decking area there are more top-tier lounging spots, as well as direct access to the azure, bath-warm lagoon below.
Watch the fish flitting around the shallows, or jump in and join them.
---
What Are The Restaurants Like At Cocogiri Island Resort?
I should probably start by saying, there is just one restaurant at Cocogiri Island Resort. But if you want a host of eatery choices, you're probably better looking away from the Maldives in general. Most locations here offer 1-3 options.
However, Azure Lagoona is the main restaurant and you don't miss that selection throughout the week as the resort puts on themed evenings celebrating a new cuisine every night. So you don't feel like you're always eating the same dishes.
Buffets are included in the all-inclusive, but you can choose to elevate your mealtimes by paying for a la carte service too. Although, with live cooking stations and those themed evenings, there's plenty of variety. Perfect if you're trying to experience the Maldives on a budget.
Meanwhile, Sands Bar & Café is more of a laid-back snack shack. Here you can get classics like pizza, pasta, salads, and burgers for an added cost. You may want to flit between the two restaurants during your stay. But White Sands is the perfect place for grabbing a cold beer or cocktail and staring out over those magical Maldivian vistas.
---
What Are The Best Things To Do At Cocogiri Island Resort?
It's not just about eating, sleeping, and relaxing at Cocogiri. If you want to turn up the pace of your break, you can.
As I said earlier, there is a full range of excursions available to help give you a more colourful picture of the surrounding area.
However, the bulk of the on-site activities revolve around the water. There's a host of aquatic elements on offer at the resort's water sports centre. From high-octane banana boating to gentle kayaking, there's something for everyone.
The dive school is also open to those who want to learn more about those kaleidoscopic wonders of the deep, in one of the best diving locations in the world. But the fun in the sun at Cocogiri Island Resort isn't reserved just for the adults. Let's talk kids club.
---
Is Cocogiri Resort Good For Families?
If you're thinking of doing the Maldives with the kids, Cocogiri boasts a selection of things to do just for the sprogs. A colourful Kid's Club, as well as a special area of the pool just for the little ones, are two of the major draws.
Trained staff in the fun club can take your junior adventurers through an engaging activity schedule. They'll learn more about themselves and the Maldives while you soak up the sun knowing they're having a blast!
Who knows, you could come back with the world's next great marine biologist.
And if all that doesn't land, they'll either be staying in a villa with beach on their doorstep or a fish-filled lagoon. What more could they want?
---
How About Some Extra Indulgence?
Now we've covered off where to eat, sleep, swim and even somewhere to take the kids. How about we look at some more chilled-out areas, like the spa for example.
Ameera Spa is the place to be for soothing your stresses. While there's no stress in the Maldives, we understand the trappings of everyday life and a long flight may have left you feeling a little jaded. Rejuvenate your mind, body, and soul at Ameera, with the help of some indulgent treatments.  
The menu offers everything from massages to body wraps. Plus, with that offer we told you about earlier, you'll have access to an exclusive 15% spa discount. So, you can start exploring a whole new world of relaxation.
But grab some drinks from the bar and kick back in the sand. Or pick up that page-turner and get some chapters logged around the tranquil resort pool. This is your trip, your paradise island, spend it however you like.
---
Find Out More About Cocogiri Today
After all that, you're probably itching to get your Maldivian adventure underway.
Click the button below to learn more about this sun-soaked paradise, as well as our latest money-saving offer.