---

New resorts, diverse destinations, more exclusive offers, and new faces
It has been a challenging year for everyone in our Blue Bay bubble, and for the Travel Industry as a whole. However, all things considered, we're taking away a lot of positives from the year!
From the expansion of our Product Team, with the appointment of new Product Managers, Steve Silver & Sam Dowling, both with expert knowledge on the most beautiful and far-flung parts of the globe.
To our new CEO – Alistair Rowland, Chairmain of ABTA, in tow. 2020 has been a pivotal year for our Blue Bay brands amid a global pandemic. Even our beloved Bayley Bear has had a bit of a makeover too.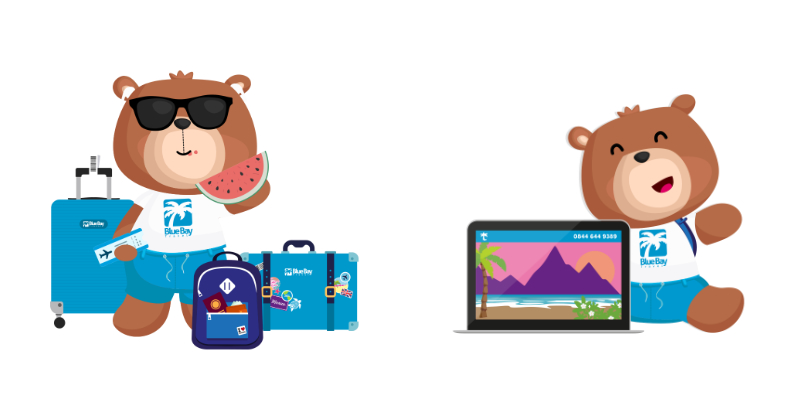 ---
Discover your Tropical Paradise
With a myriad of marvellous new Maldives and Mauritius resorts to explore across Tropical Warehouse, to the unspoilt corners of Caribbean coastline, our team are working hard to ensure that when its time for you to travel, you travel with style!
Surely that's what everyone's looking forward to right?
Just imagine how amazing it will feel, once again, stepping off that plane, off on your long-awaited holiday with that someone special.
Across the Far Eastern azure oceans and scattered islands sits the marvel of the Maldives, providing luxury holidaymaking on some islands only 1 meter above the sea level!
The Maldives, widely known for creating an intimate and secluded setting, could be the perfect holiday for you to kick back and relax in the modern world. Explore a haven, popular with honeymooners, couples, water villa aficionados, divers and watersport fanatics.
But with all of this talk about the Maldives it stirs up the question, are you more Maldives or Mauritius? I don't know about you, but I love a good ramble, somewhere you can explore the real unspoilt corners of the globe with a sense of accomplishment and high-altitude surroundings along the way. And that's not too say the beaches in Mauritius aren't too bad either.
To discover more about Mauritius read our Mauritius Travel Guide or take our latest quiz to let holiday science and electrical algorithms answer the burning question, are you more Maldives or Mauritius!?
Tropical New Additions
Discover our latest tropical temptations across the Maldives & Mauritius below
---
Relax.
We know that there is more to a perfect stay in paradise than just sunning it up. That's why we help our holidaymakers through the entire process and here's how we do it

---
Brand New Destination:
Have you ever wondered what country celebrities are in when pictured partying in Abu Dhabi and Dubai? Well, the answer is the United Arab Emirates or UAE. Our latest blog reveals all you'll need to know about those beloved Emirates.
Delve into luxury holidaymaking in the UAE
---
Caribbean paradise at a great price
If you asked us anywhere in the world, we wish we could be right now, more times than none you will hear the names of favourite resorts in Mexico or the Caribbean. With expert long-haul holiday knowledge, our staff have racked up a lot of passport stamps over the years, exploring the palm-fringed coastlines of the Caribbean to help you find that perfect escape.
Explore our latest Caribbean retreats across Mexico & Dominican Republic today
---
New Faces
Well-travelled Product Manager Steve Silver, joins the team at Blue Bay, specialising in holidaymaking across the Far East, Indian Ocean, and further afield expanding our love for those far-flung retreats.
Joining Steve, Sam Dowling, our latest Product Manager, tells Travel Weekly about his exciting new appointment.
Alongside our growing Product team, recently appointed CEO – Alistar Rowland, Chairman of ABTA talks with TTG all about our exciting growth plans at Blue Bay Travel.
---
Look to the future
As 2020 draws to an end, and a second national lockdown imposed until the start of December. In the hope to alleviate the pandemic over the festive period. Holidaymakers are looking to next year and beyond 2021 to find that picture-perfect island in the sun.
Sit back, relax, look ahead, and stay safe over winter. Plan your future holiday happenings today with help from our hottest exclusive deals with availability now until December 2022.
Our latest 2022 Holiday Collections on Caribbean Warehouse & Tropical Warehouse have been hand-picked by our holiday experts just for you.
---